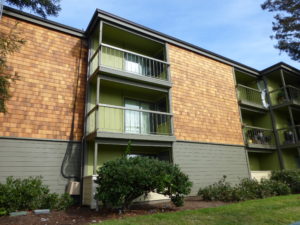 Owners and operators of apartment complexes have a distinct advantage when it comes to aesthetics. If these folks happen to own complexes in highly desireable neighborhoods, the payoff of apartment renovation projects is even better. That's because those residing in urban areas who seek the simplicity of an apartment will also likely want to live in a place that looks up-to-date. That means modern color schemes, architectural designs and construction materials that will keep the place working as it should and looking nice, too. Anton Kalafati and B Side Construction are no stranger to these concepts, as he and his crew have tackled major overhauls of popular apartment complexes. That's why he read with interest a recent MultiFamily Executive magazine article exploring the cost and payoff of a recent major apartment overhaul in Pennsylvania.
According to the article, the price tag attached to the upgrades done to the 11 3-story buildings was $3 million. There was no shortage of work that was done to the buildings: Upgraded kitchens with new maple cabinets, tub surrounds in the bathrooms, six-inch wooden baseboards, utility system upgrades, energy-efficient windows and new sliding doors among other beautification perks. The result, according to the article, has been equally rewarding for the owners who invested a considerable amount of money for the project: "…bumping up monthly rents for a two-bedroom apartment to $1,040, from $918 in December, thereby exceeding the 10 percent return on investment target…"
B Side Construction's Anton Kalafati knows that making money isn't the only reason why apartment complex owners invest time and resources into such an endeavor. When this Bay Area-based contracting company was hired by the Alameda Housing Authority for siding and window replacement, their skills were put to the test. Photos of the final product show a contemporary-looking product that's pleasing to the eyes, as well. This was accomplished through installation of wide windows, wooden siding and a color scheme of slate gray, bright browns and earthy greens that blends with the natural surroundings. This is the type of work that B Side Construction and Anton Kalafati have an eye for and completing such a project is a point of pride for everyone involved.
"You can't change the age of a product or change the ceiling heights. But you can achieve some gap closure" with renovation work, a chief operating officer of a property management company told the magazine. Mr. Kalafati knows this well and encourages owners of complexes in California's Bay Area to consider retaining B Side Construction for their next project.